Toyota Safety Sense P protects Toyota owners in Hanford, California
So what comes in the various Toyota Safety Sense packages? We're glad you asked!
The Toyota Safety Sense P (TSS-P) combines an in-vehicle camera and front-grill mounted millimeter-wave radar for enhanced performance and more functionality for mid-sized and large Toyota models.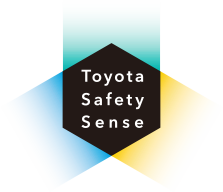 In addition to the three active safety technologies featured in the TSS-C package, the TSS-P enhances the Pre-Collision System by adding a Pedestrian Detection function, enhances Lane Depature Alert by adding a Steering Assist function on certain model, and adds Dynamic Radar Cruise Control.
---
The Pre-Collision System included with the TSS-P package may also help to detect a pedestrian in front of your vehicle in addition to detecting a vehicle as part of the TSS-C package. The system will use audio and visual alerts to warn you to take evasive action and brake if the likelihood of a frontal collision with a pedestrian in front of your vehicle is high. The system may automatically apply the brakes or provide additional braking force using Brake Assist to reduce speed in order to help you reduce the impact and in certain cases avert the collision.
---
As part of the TSS-P package, Electronic Power Steering-equipped vehicles feature a Steering Assist function in addition to the alert functions of Lane Departure Alert. The Steering Assist function will provide small corrective steering inputs to the steering wheel for a brief period of time if the system determines that the vehicle is on a path to unintentionally depart from its lane. To help you reduce the impact and in certain cases avoid the collision, the system may automatically apply the brakes in certain conditions.
---
Dynamic Radar Cruise Control uses a front-grille-mounted, millimeter-wave radar and an in-vehicle camera to help vehicles travel at a consistent speed set by the driver, equivalent to traditional "constant speed" cruise control, but this system responds to changes in the speed of the vehicle ahead in order to help maintain the vehicle-to-vehicle distance set by you by automatically accelerating or decelerating your vehicle.
The system is designed to automatically decelerate your vehicle without having to cancel the cruise control if the vehicle ahead is detected traveling at a speed slower, and in certain conditions, the system may apply the brakes, may alert you with an audio and visual alert, and may operate your vehicle brake lights.
---
Learn More About Toyota Safety Sense
For more information, call us at (855) 550-6863 or stop by Freeway Toyota at
1835 Glendale Ave in Hanford, CA